Resources
When it comes to connecting technology to your business, Software InsITe is here to make your life easier. From 10 questions you need to be asking your IT provider to our expert blog on how Software InsITe is moving business forward, you will find these resources helpful in guiding you to making great decisions. 
5 Examples of Manufacturing AI & Automation
What does "artificial intelligence" (AI) mean to you? For people who've seen the recent Microsoft commercials it means saving snow leopards, feeding the world, and improving access to healthcare… and it probably feels a lot like futuristic science fiction. But what does it mean to a manufacturer like you? Do you think that AI is too expensive, too complex, or simply not something that's going to show a quick return for your business?
We'd like to show you examples of how local Michigan manufacturers are using AI and automation TODAY to help them save money and time, and reduce manual labor and defects. Download our "5 Examples of Manufacturing AI & Automation" and see if any of these use cases apply to your shop floor or executive office. We'll show you how we solved issues like the following with easy-to-use, affordable AI and automation apps, and integration services:
Data silos created by legacy equipment that isn't connected
Parts defects not visible to the human eye causing customer dissatisfaction
Robots and programmable logic controllers not connected to each other; disrupting the shop flow
Connected Device Security Assessment Spreadsheet
Each device connected to your network is a potential threat to your entire network.  If your business is not secure, hackers can get into every single device connected internally and control it. Before you know it, production grinds to a halt.
In order to protect your connected devices, it's important to know which ones have been installed in operations and which systems they connect with. You can do this by creating a detailed inventory of your connected devices.
Download our free, easy-to-use Connected Device Security Assessment Spreadsheet to help you list and assess all the devices you have.  This will allow you to secure your operations and prepare you to identify possible threats that could come up.
Check out our blog to learn more about this topic!
AI & Automation Smart Factory Checklist
Is your shop floor leaking profit?
Every manufacturing company wants to minimize downtime and maximize its return. But an inefficient shop floor will drain profit from every order.
Repeatable, manual tasks take too long and make it almost impossible for you to scale. That's why hundreds of companies leverage the power of Artificial Intelligence to streamline their manufacturing processes, inventory management, and even the safety of their employees.
The best part is — implementing AI into your business is easier than you think.
Download the Smart Factory Checklist today and discover how your shop floor could optimize efficiency using AI and automation applications.
Featured Blogs from Software InsITe Experts
Contract Manufacturer
After winning a contract to build EV components for a large global manufacturer, this contract manufacturer needed to find a partner to get their 100,000-square-foot facility up and running to meet the demand.
This manufacturer's challenges started when they purchased their new facility and machinery to only find out that the machines wouldn't turn on. With the pressure to get production started, it was crucial to get the machines to turn on and communicate with each other as quickly as possible.
With around 8 different production line configurations needed over the course of a year, there was a significant amount of work needed to get the machinery connected.
Download the case study to find out how Software InsITe was able to work on the fly and help double the capacity of this client's production line.
West Michigan Manufacturer
After nearly 10 weeks at a fraction of their output, a lucky LinkedIn encounter returns a West Michigan Manufacturer's production back to full capacity — by reviving an ultra-rare manufacturing machine. 
This particular organization relied on three unique CNC grinding machines — of which there is only 21 total in the world — to make 600+ dies a year for its aerospace customers. When one of them went idle for 10 weeks, this resulted in $120,000 in missed revenue and would have potentially reached $750,000 in the next 12 months. 
The company not only had to figure out how to repair a machine that few people in the world could reverse engineer, but it also had to do it while operating at a fraction of its regular capacity.  
Download the case study to discover how Software InsITe was able to bring the machine back online in just a few short weeks.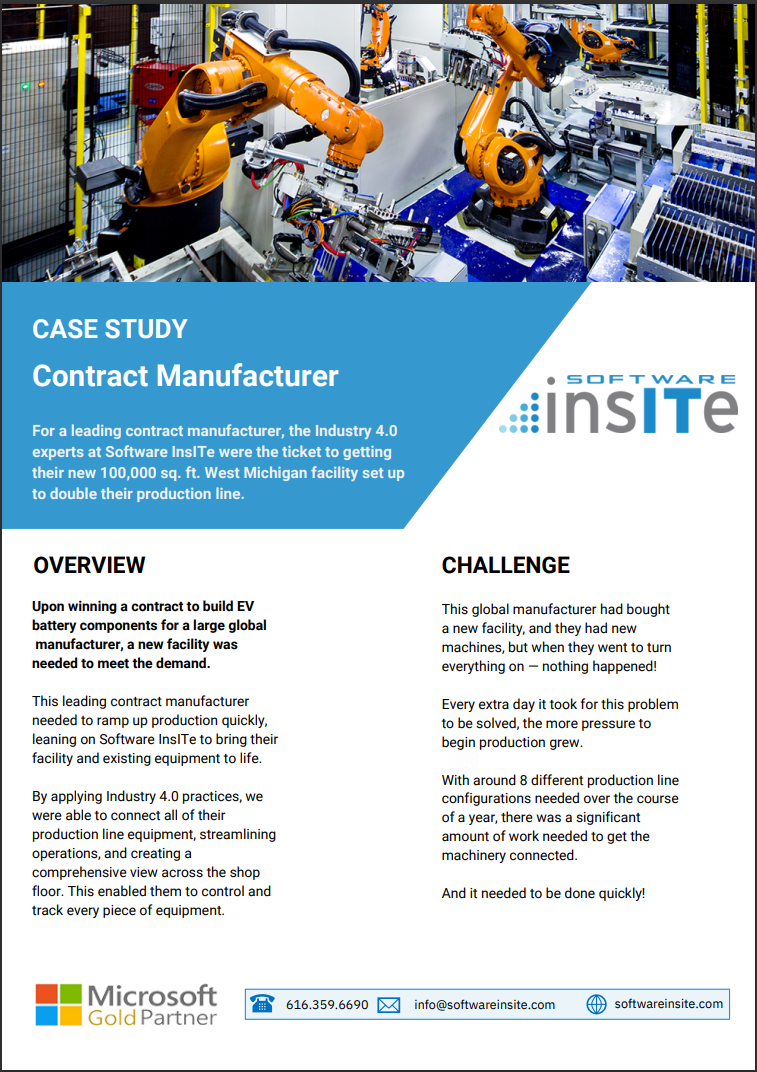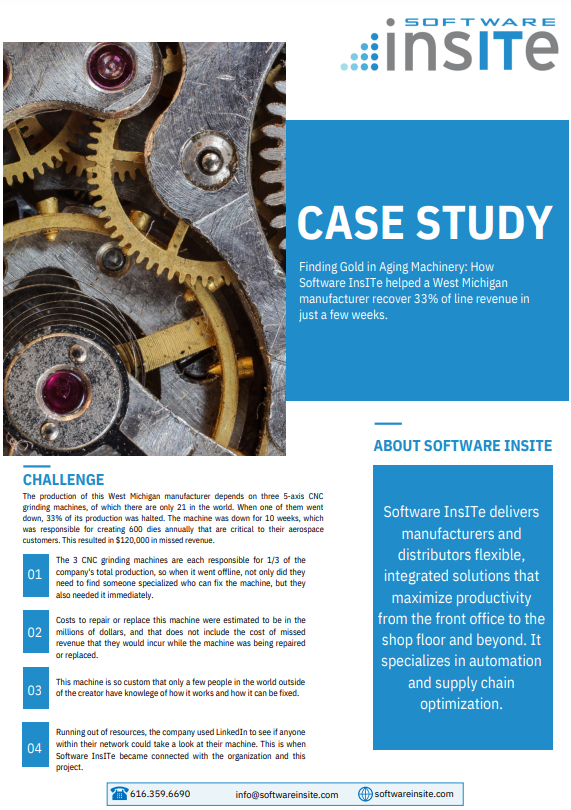 ITW Drawform
ITW Drawform was manufacturing approximately 1 million parts per day, and 400,000 of those go-to outside processors and then are received back in for finishing and shipping.
ITW Drawform was struggling with timely information on delayed or shorted shipments due to a lack of visibility into the status and location of their inventory.
This caused issues with knowing what material was available to send to their suppliers and what was ready to ship to the customer, which caused major operational problems.
Our customized solution enabled ITW Drawform to grow from $40M to over $100M without adding additional employees. Download the case study to see how we were able to meet these challenges!